Product Description
Beidou Perkins gensets are matched with Perkins engine and brushless alternator. Perkins is a world-renowned engine brand, specializing in the production of engines, we are an OEM manufacturer, engaged in the production of generator sets. Perkins gensets produced by Beidou are of reliable quality and worry-free after-sales. Perkins gensets have the characteristics of high emission standards, high economy, high stability, and high reliability.
25KVA 20KW Perkins generator is manufactured by Beidou Power factory. When Beidou produce the 20KW 25KVA generator, not only must pay attention to its brand, but also its service life, power performance, service and after-sales issues.
Perkins powered Beidou Generaor is outstanding in stability, reliability, durability and service life, it can provide you with low operating costs and fast payback periods. 
The noise level of the silent diesel generator set is below 75 decibels. It is suitable for use in densely populated areas or places with strict requirements for environmental noise. The low-noise diesel generator set is highly mobile, adaptable and fast in power supply. It is most widely used in municipal engineering construction. Because of its convenient movement and fast speed, it provides convenience for users to realize long-distance emergency power supply. ***Point: Beautiful appearance, rainproof, dustproof, etc.
Small diesel generators are widely used in mines, railways, field construction sites, road traffic maintenance and other places, as a backup power source or temporary power source. At the same time, this small generator set can also be used as a small mobile power station, becoming a backup power source for many enterprises.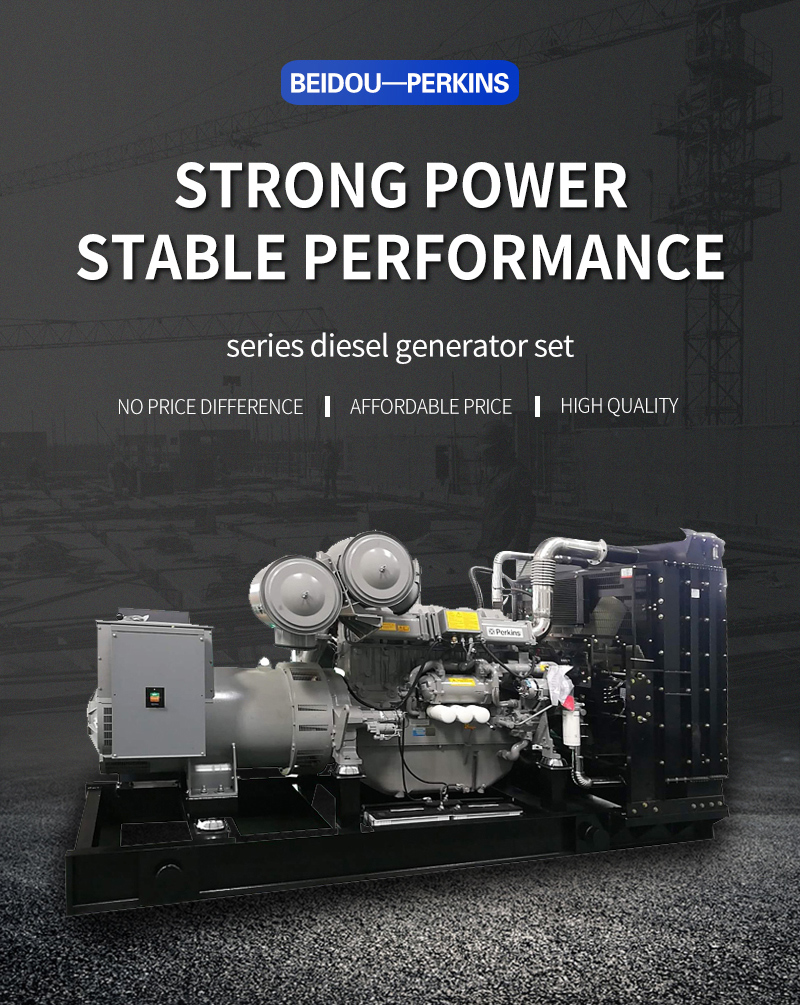 Product Advantages of Perkins 
British Perkins (Perkins) Engine Co., Ltd. is a world-renowned engine manufacturer with a long history. So far, it has provided the world with 15 million generator sets of various power ranges from 8KW to 1980KW. As a world-renowned manufacturer of Rolls-Royce, Perkins is committed to product quality, environment and economy, and strictly implements ISO9001 and ISO14001 standards. The products have high emission standards, high economy, high stability, and high reliability. Features. Beidou Perkins series diesel generator sets are made of Perkins Power Co., Ltd. diesel engines and equipped with brushless self-excited AVR-controlled generators. The power range is 12KW-1800KW, which is deeply loved by domestic and foreign users.
1. Excellent shock absorption performance: Optimal design of shock absorption system based on computer dynamic simulation.
2. Advanced control system: the control strategy of the full monitoring system based on reliability design.
3. Green and environmental protection: energy saving and low emission are integrated.
4. Low noise: Tailor-made exhaust silencer system for each unit.
5. Excellent performance: stable operation, low vibration, low fuel consumption rate, low oil consumption rate, long operating life, long overhaul time, and low noise.
6. Compliance with international standards: in line with GB2820 and IS08528/3 standards, in line with GB/T2819, ISO8528, IEC34 and other international standards, and in line with the technical requirements of YD/T502 special diesel generator sets for post and telecommunications systems.
7. Fully automatic and intelligent: there are different types of control boxes such as manual, automatic, remote monitoring, automatic and intelligent. The basic configuration includes voltmeter, ammeter, water temperature meter, oil pressure meter, controller, emergency stop button, preheat button, battery voltmeter, timetable, phase selection switch, etc.
 Perkins Details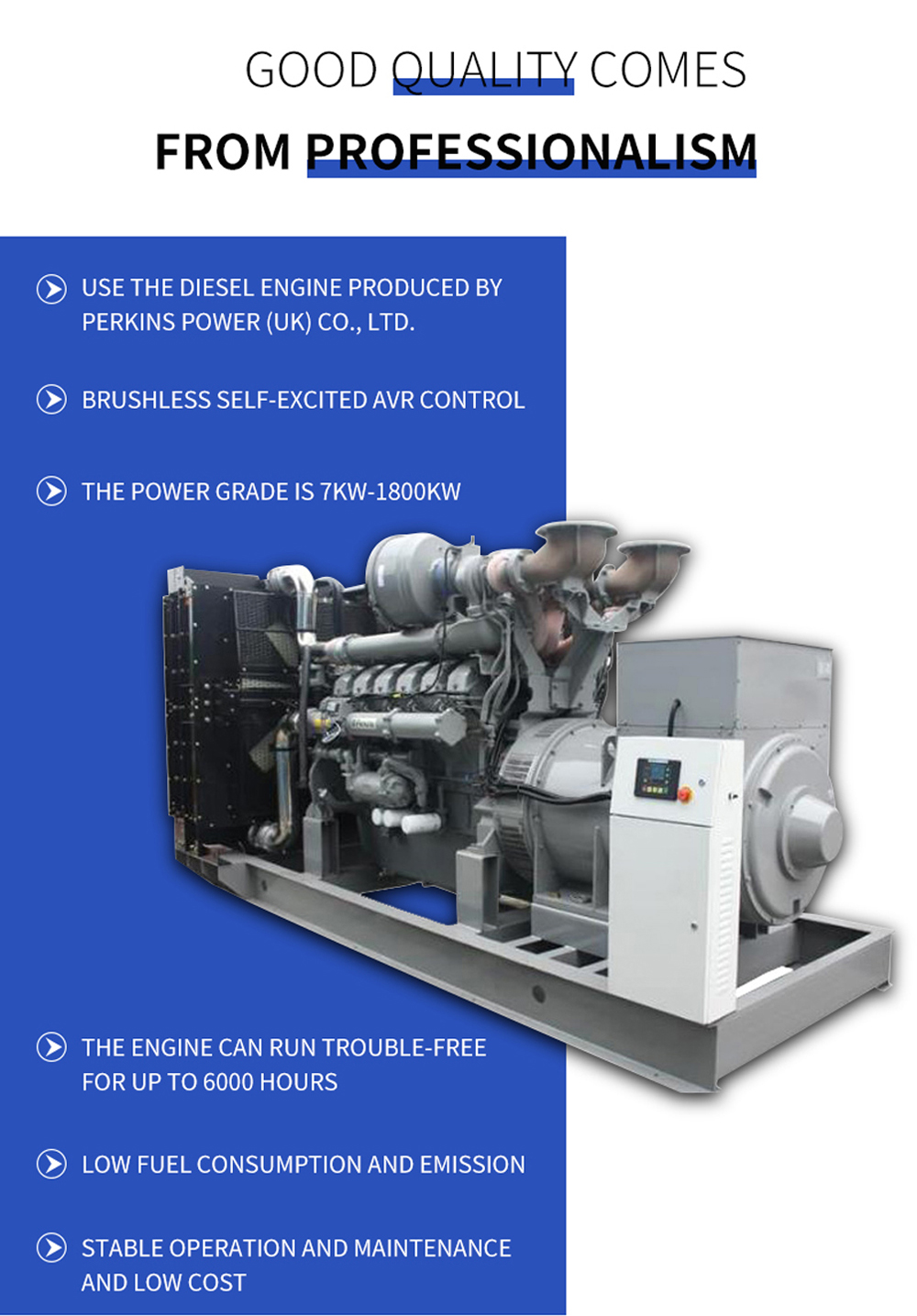 About Us
1. We have advanced technology to ensure the quality and after-sales service of each generator set;
2. Exquisite selection of materials, original factory procurement, every spare part comes from the manufacturer;
3. With the fastest delivery speed, some products are in stock and can be sent out immediately;
4. Manufacturer qualification, provide OEM;
5. Each generator set exported will be packed with professional wooden boxes to ensure the safety of the generator set. 
Some Accessories Supply
Perkins three filters: diesel filter, oil filter, air filter.
If you Purchase Beidou generator, you do not need to worry about no where to buy parts and how to maintance. We will provide service during generator all working llife. BEIDOU promise to provide parts with factory price with no profit to our generator users.