Product Description
Beidou is an OEM authorized manufacturer supporting Shanghai generator set. Our Shanghai diesel power generator has excellent technology, compact structure, beautiful appearance, good economic performance and long service life. It has been favored by customers for a long time. Shanghai diesel power generator is China's first-line brand, even abroad, the brand and reputation are also excellent, and there is no need to worry about after-sales.

Silent Type Shangchai Diesel Generator
The Shanghai diesel power generator set produced by Beidou is equipped with a silent canopy, which can effectively block noise. Our generator sets are of high quality and the technology of the silent canopy is more sophisticated. Compared with other manufacturers, our silent canopy is one of the best quality, many manufacturers make the quality of the silent canopy is often not up to standard, and the difference can be clearly seen from the thickness of the steel plate and the noise reduction ability. We welcome anyone to visit our factory, our quality and craftsmanship will impress you!
Product Parameter
Shanghai diesel power generator have wide power scope. Please see bellow details. If any doubt of how many power output generator you need, please contact us to get advice from engineer.
MODEL

POWER

DIMENSIONS(mm)

WEIGHT(kg)

BORE/STROKE(mm)

COMPRESSION RATIO

POWER

kw

kva

SHANGHAI

BD-S50

50

62.5

2400*1100*1600

1950

105*124

17.3

BD-S75

75

93.75

3000*1180*1750

2390

105*124

17.3

BD-S100

100

125

3000*1180*1750

2675

105*124

16

BD-S120

120

150

3200*1250*1850

2880

105*124

16

BD-S150

150

187.5

3200*1250*1850

3080

105*124

16

BD-S180

180

225

3200*1250*1850

3363

114*144

18

BD-S200

200

250

3400*1250*1950

3370

135*150

16.5

BD-S250

250

312.5

3800*1400*2100

3715

135*150

15.55

BD-S300

300

375

4000*1500*2200

4790

128*153

17

BD-S320

320

400

4000*1500*2200

5070

135*165

15.55

BD-S400

400

500

4200*1600*2250

5305

135*150

16

BD-S450

450

562.5

4200*1600*2250

5635

135*155

16

BD-S500

500

625

4500*2100*2400

6350

135*155

16

BD-S600

600

750

4900*2250*2450

7000

180*215

15

BD-S700

700

875

6000*2400*2900

8700

180*215

15

BD-S800

800

1000

6000*2400*2900

8700

180*215

15

Can be customized according to user requirements.

Technology of Silent Canopy
The sound insulation canopy is designed as a three-layer vibration isolation structure, two internal and external sound insulation doors. soundproof canopy shell (inner) use 2 mm thick high quality cold rolled plate electrolysis and multilayer composite flame retardant insulation material, appearance using electrostatic spraying, stamping, welding, pickling, spray coating produced, soundproof canopy door sealing pads, equipped with product testing in the cable interface, etc..
In order to make the Shangchai silent box diesel generator set more convenient to use and have a better noise reduction effect, Beidou engineers designed the control system on the outside of the box, equipped with a transparent observation window and a safety lock. The control module is a self-starting computer module, which can automatically start the generator when the power fails, and the start delay time is 3-5 seconds, which basically guarantees uninterrupted power. At the same time, it has the self-protection function of the generator set, which can automatically stop the machine in case of overvoltage, overload or high temperature to protect important parts of the generator set from damage.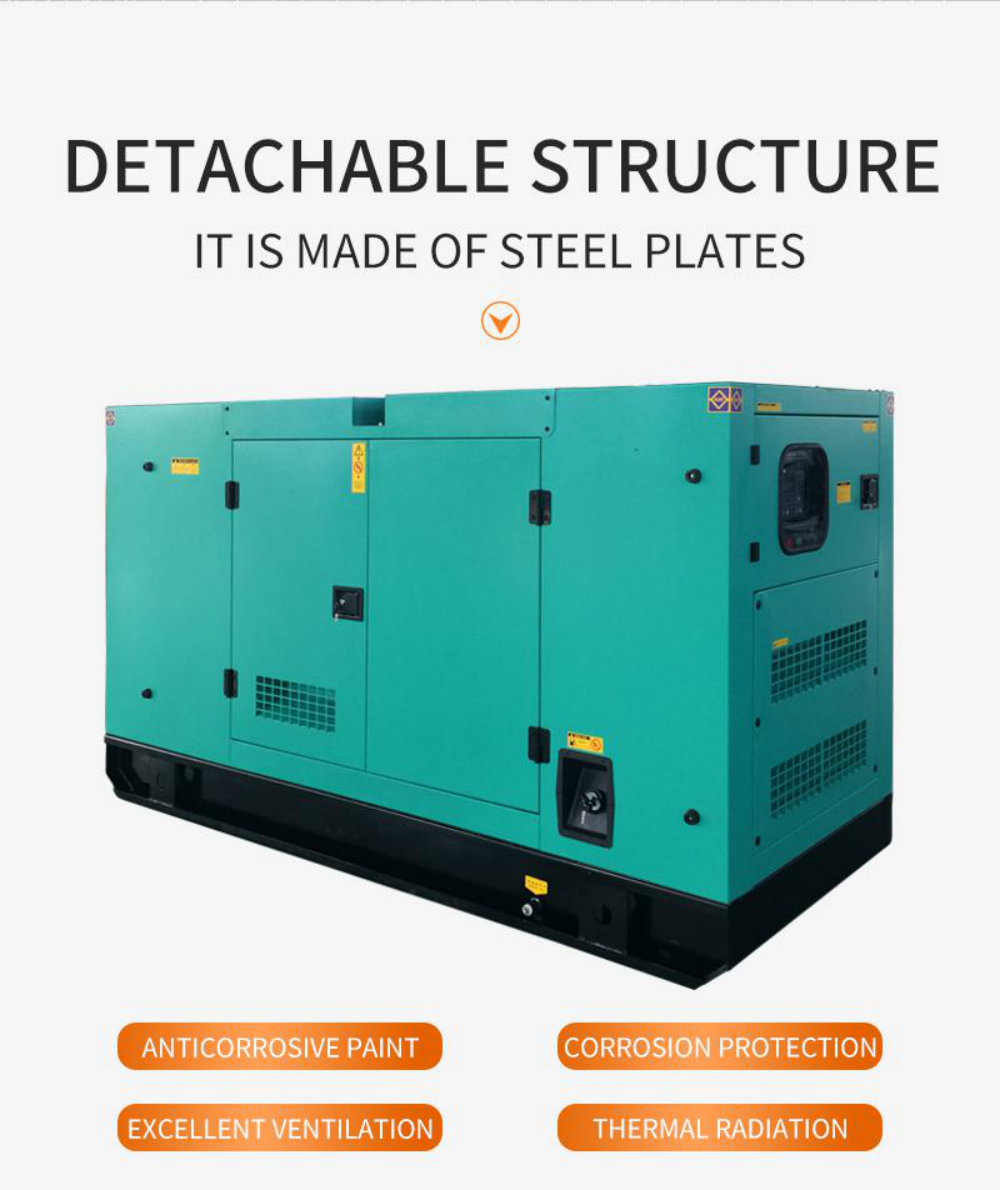 Shanghai diesel power generators are widely used, and can be used for municipal engineering, housing construction, factory backup, hospital and school backup, etc. Its stability and power are popular among users. Shanghai diesel power generators have after-sales points all over the world. Their spare parts are easy to purchase and easy to maintain. If you have the intention to purchase, will give you the most satisfactory purchase plan.
Beidou produces Shangchai Co., Ltd. power silent diesel generator sets, which have ISO quality certificates and meet international quality standards. At the same time, it has two patents for silent box and generator set, with excellent performance and reliable quality.