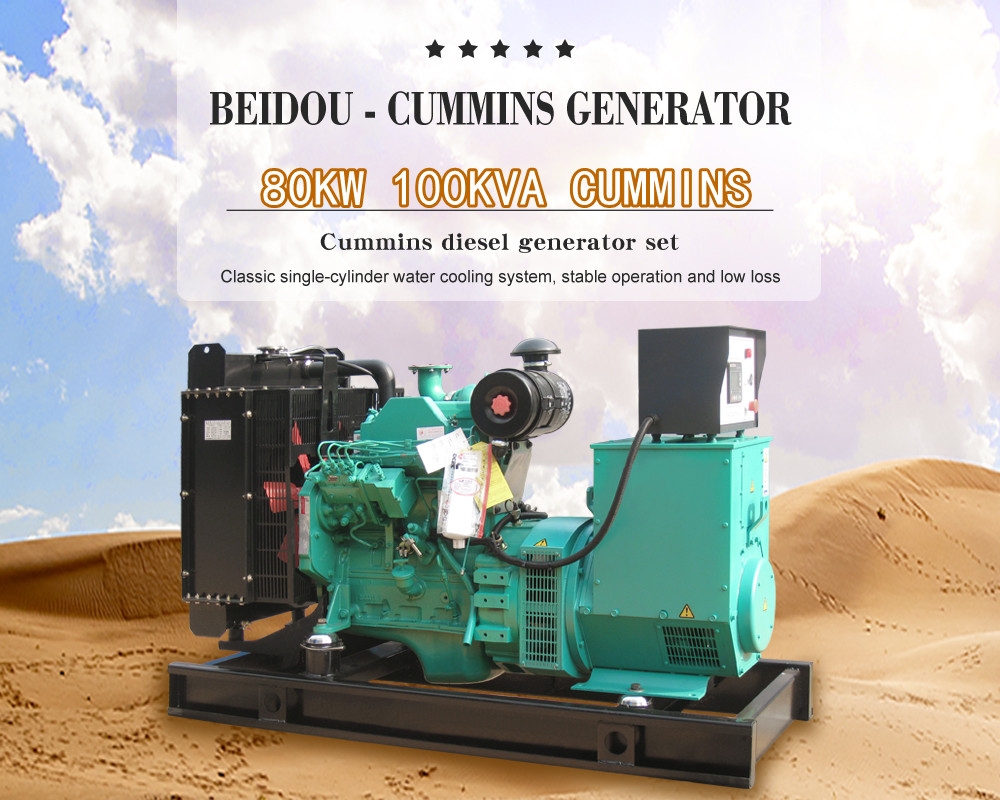 About The Genset
BD-C80 diesel engine generator uses Cummins engine as power, transient response characteristics, good fuel economy, environmental protection, high reliability and long life cycle.The BD-C80 diesel generator set adopts an integrated structure, and the diesel engine, generator and radiator are integrally installed on a public high-strength steel base, with a battery compensation charger.The main power of the unit is 80KW, and the standby power is 88KW,the unit adopts the well-known brand new Cummins diesel engine, and is equipped with an all-copper brushless alternator,the genset is standard equipped with an online radiator with an ambient temperature of 40°C and a closed water circulation cooling system to ensure the rated power output under harsh and high temperature environments.
| | |
| --- | --- |
| Brand | Beidou Power |
| Model | BD-C80 |
| Place of Origin | Yangzhou, Jiangsu, China |
| Genset Power | 100KVA/80KW |
| Output current(A) | 144A |
| Rated AC Voltage(V) | 230/400V;240/440V |
| Frequency | 50HZ;60HZ |
| Noise level(dB) | ≤102 |
| Fuel consumption at 100% load | ≤12.8L/h |
| Dimensions (mm) | 2100*850*1450mm |
| Weight (kg) | 950kg |
About Diesel Engine
The diesel engine adopts the internationally renowned brand Cummins
6BT Cummins: Engine Basics
The 6BT Cummins is a 5.9L inline-6, with an OHV designed and 12 valves; Another name for the 6BT is "12-Valve." The architect of the 6BT is roughly similar to the AMC inline-6 of the time.The 6BT has an iron cylinder block, as well as an iron cylinder head. While this makes it extremely heavy, it also makes it extremely strong. Strength is one of the 6BT's most known features.
Many people have pushed them past 1,400 horsepower, and the stock ones can exceed 1,000,000 miles if properly cared for.One of the best features of the 6BT Cummins is its entirely mechanical fuel system, which makes it excellent for an engine swap because there is only a couple of wires to make the engine run.But, because of this you can't just plug a tuner into it and produce more horsepower. You can view this mechanical fuel system as either a pro or as a con.
The simple mechanical fuel injection system is unlikely ever to fail, but you cannot tune it by using a small handheld tuning device.
Engine Parameter
| | |
| --- | --- |
| Diesel engine model | 6BT5.9-G2 |
| Engine Power | 92W |
| Type | Four stroke and mid-cooling |
| Four stroke and mid-cooling | water cooling |
| Number of cylinders | 6/in line |
About Alternator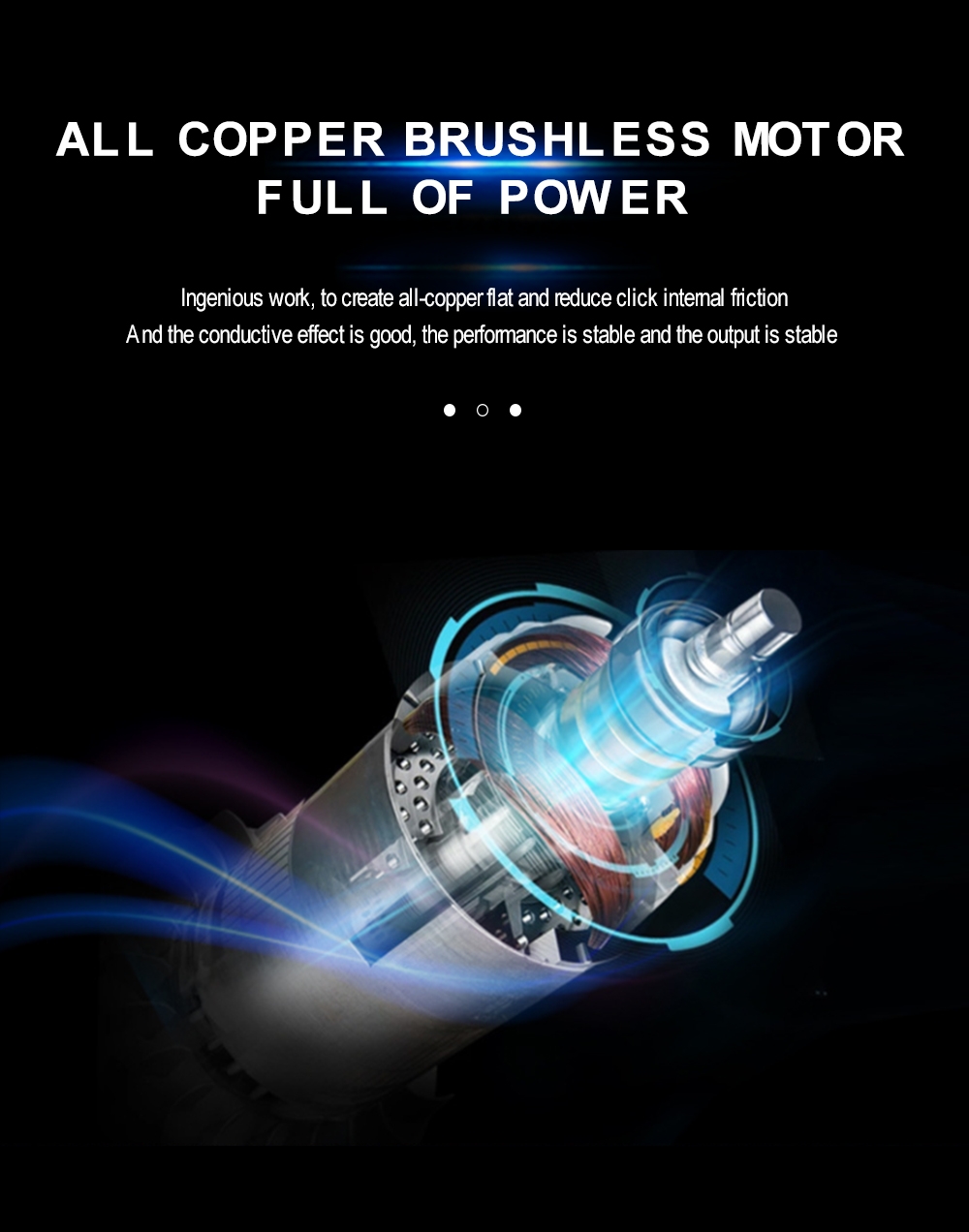 Beidou power genset are all equipped with all-copper brushless alternators:
All-copper brushless alternators have the following advantages:
1. The all-copper generator is more durable.
2.Pure copper wire motor is more energy efficient.
3. The pure copper core motor is quieter.
Alternator Parameter
| | |
| --- | --- |
| Brand | Stamford;Marathon;Leroy;Beidou Power and so on |
| Power | 100KVA/80KW |
| Rated AC Voltage(V) | 230/400V;240/440v |
| Excitation way | Brushless, self-excitation, AVR |
| Rated frequency | 50HZ;60HZ |
| Insulation level | H |
| Degree of protection | IP22;IP23 |
About Controller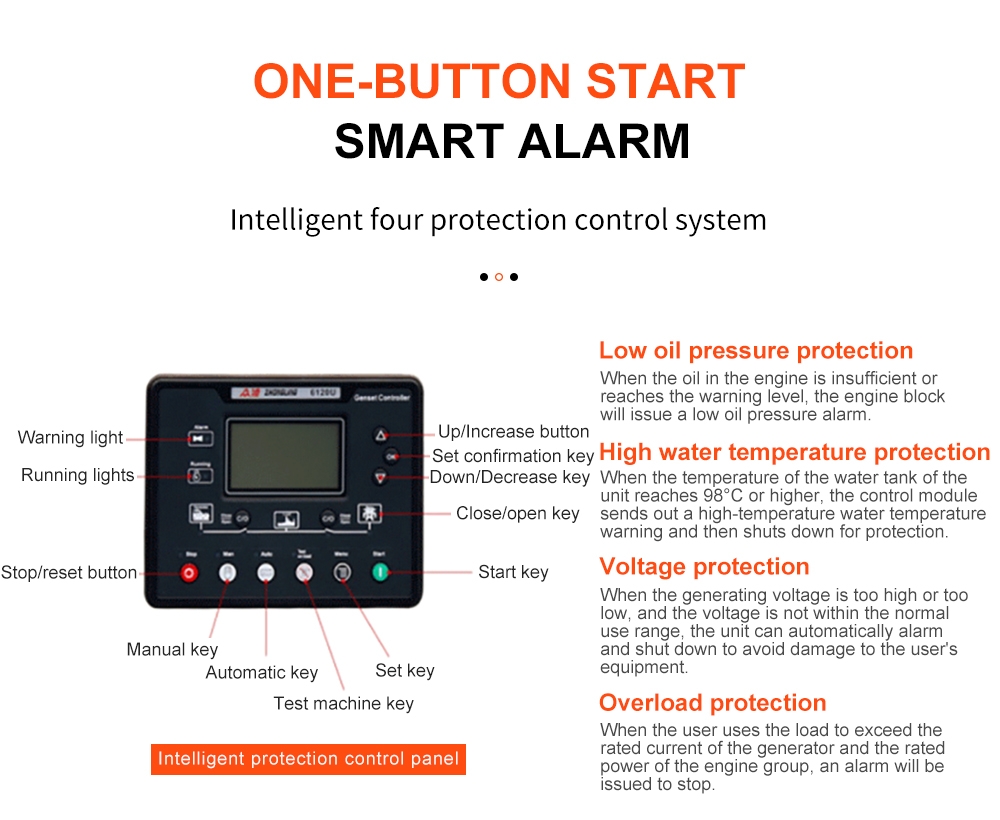 Optional Accessories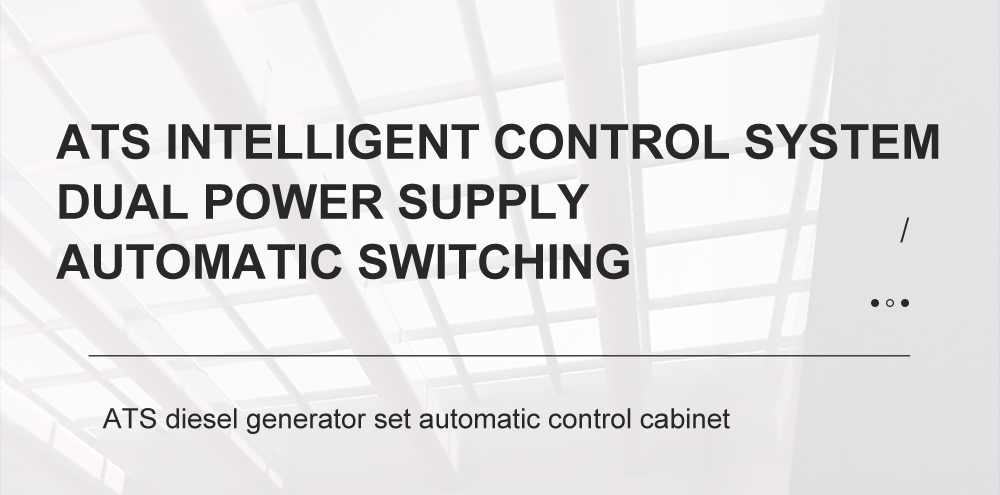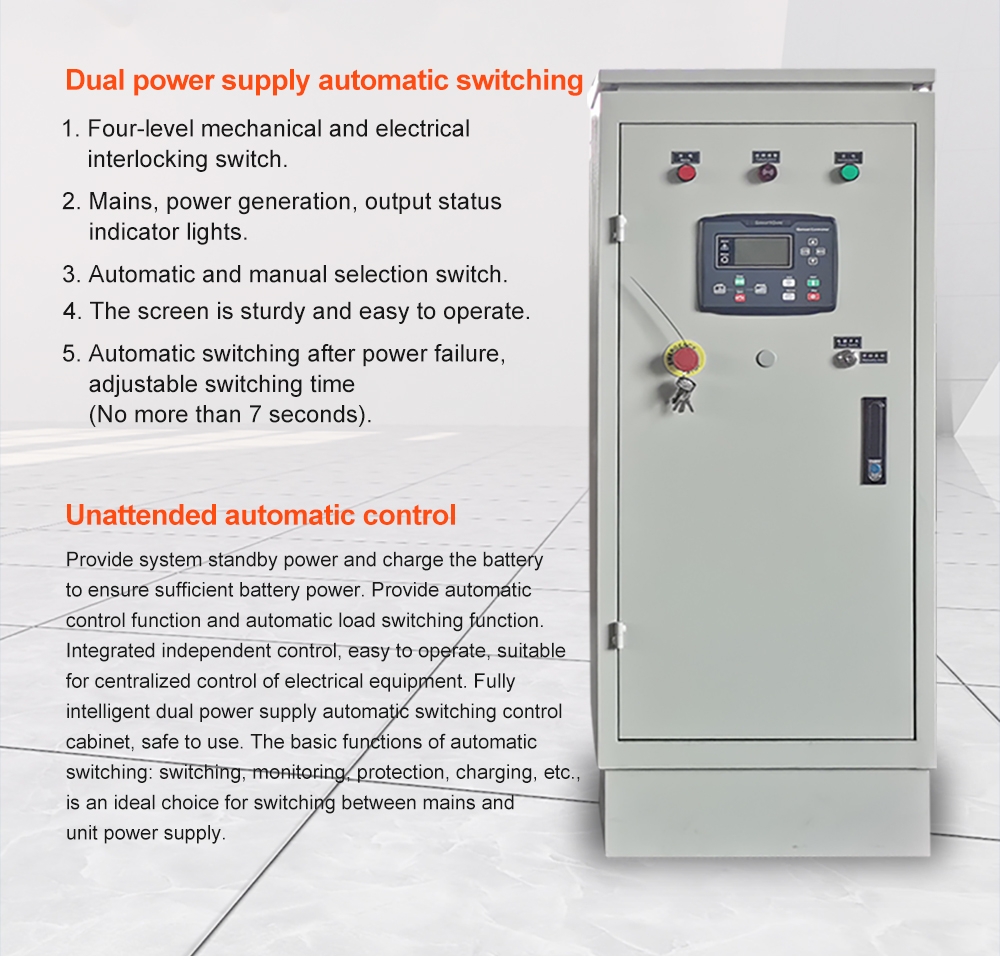 About Us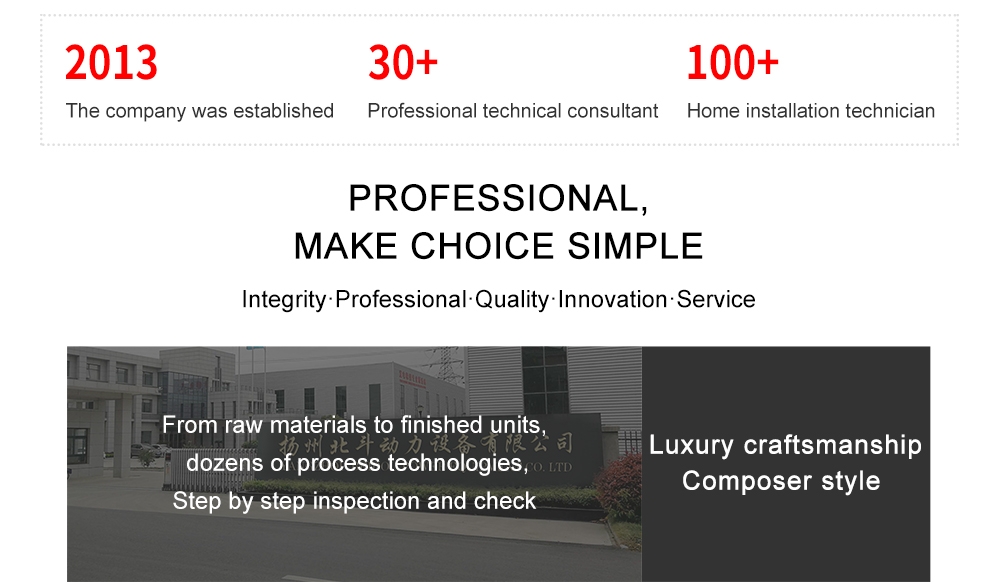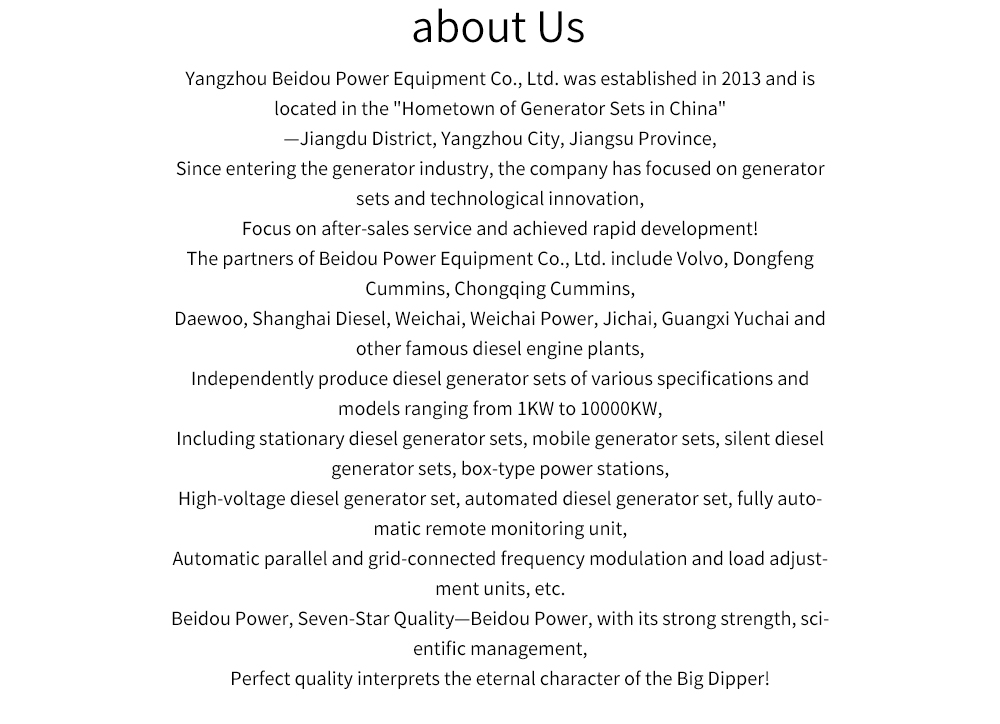 Other Types