CONTACT US TO GET FACTORY PRICE
GENSET MODEL

Hz

 POWER

ENGINE BRAND

ENGINE MODEL

ENGINE POWER

OPTIONAL

VIEW MORE DETAILS

KW

KVA

SILENT

TRAILER

BD-P7

 50Hz OR 60Hz

7

9

PERKINS

403A-11G1

8KW

 

 

7KW 9KVA Perkins Genset

BD-P10

10

13

403A-15G1

12KW

 

 

10KW 13KVA Perkins Genset

BD-P12

12

15

403A-15G2

14KW

 

 

12KW 15KVA Perkins Genset

BD-P16

16

20

404A-22G1

18KW

 

 

16KW 20KVA Perkins Genset

BD-P22

22

27

404D-22TG

22KW

 

    

22KW 27KVA Perkins Genset

BD-P24

24

30

1103A-33G

28KW

 

 

29KW 37KVA Perkins Genset

BD-P29

29

37

404D-22TAG 

32KW

 

 

27KW 37KVA Perkins Genset

BD-P36

36

45

1103A-33TG1

42KW

 

 

36KW 45KVA Perkins Genset

BD-P48

48

60

1103A-33TG2

54KW

 

 

48KW 60KVA Perkins Genset

BD-P52

52

65

1104A-44TG1

58KW

 

 

52KW 65KVA Perkins Genset

BD-P64

64

80

1104A-44TG2

72KW

 

 

64KW 80KVA Perkins Genset

BD-P80

80

100

1104C-44TAG2

90KW

 

 

80KW 100KVA Perkins Genset

BD-P90

90

100

1104D-E44TAG2

104KW

 

 

90KW 100KVA Perkins Genset

BD-P120

120

150

1106A-70TAG2

131KW

 

 

120KW 150KVA Perkins Genset

BD-P144

144

180

1106A-70TAG3

158KW

 

 

144KW 180KVA Perkins Genset

BD-P160

160

200

1206A-E70TTAG1

175KW

 

 

160KW 200KVA Perkins Genset

BD-P184

184

230

1206A-E70TTAG2

201KW

 

 

184KW 230KVA Perkins Genset

BD-P200

200

250

1206A-E70TTAG3

217KW

 

 

200KW 250KVA Perkins Genset

BD-P226

226

282

1506A-E88TAG4

245KW

 

 

226KW 282KVA Perkins Genset

BD-P246

246

307

1706A-E93TAG2

302KW

 

 

246KW 307KVA Perkins Genset

BD-P280

280

350

2206C-E13TAG2

305KW

 

 

280KW 350KVA Perkins Genset

BD-P320

320

400

2206C-E13TAG3

349KW

 

 

320KW 400KVA Perkins Genset

BD-P364

364

455

2506C-E15TAG1

396KW

 

 

364KW 455KVA Perkins Genset

BD-P400

400

500

2506C-E15TAG2

435KW

 

 

400KW 500KVA Perkins Genset

BD-P520

520

650

2806A-E18TAG2

565KW

 

 

520KW 650KVA Perkins Genset

BD-P570

570

712

2806A-E18TTAG4

598KW

 

 

570KW 712KVA Perkins Genset

BD-P600

600

750

4006-23TAG2A

628KW

 

 

600KW 750KVA Perkins Genset

BD-P640

640

800

4006-23TAG3A

675KW

 

 

640KW 800KVA Perkins Genset

BD-P720

720

900

4008TAG1A

767KW

 

 

720KW 900KVA Perkins Genset

BD-P800

800

1000

4008TAG2

861KW

 

 

800KW 1000KVA Perkins Genset

BD-P900

900

1125

4008-30TAG3

947KW

 

 

900KW 1125KVA Perkins Genset

BD-P1000

1000

1250

4012-46TWG2A

1055KW

 

 

1000KW 1250KVA Perkins Genset

BD-P1200

1200

1500

4012-46TAG2A

1267KW

 

 

1200KW 1500KVA Perkins Genset

BD-P1350

1350

1710

4012-46TAG3A

1440KW

 

 

1350KW 1710KVA Perkins Genset

BD-P1480

1480

1850

4016TAG1A

1537KW

 

 

1480KW 1850KVA Perkins Genset

BD-P1600

1600

2000

4016TAG2A

1715KW

 

 

1600KW 2000KVA Perkins Genset

BD-P1800

1800

2250

4016-61TRG3

1875KW

 

 

1800KW 2250KVA Perkins Genset
Beidou Perkins diesel generator sets use original Perkins engines, which have a complete range of products, a wide range of power coverage, excellent stability, reliability, durability and service life, which can provide you with low operating costs and fast "Return" cycle, and widely used in communications, industry, outdoor engineering, mining, anti-risk, military and other fields. The 400, 1100, 1300, 2000 and 4000 series diesel engines are produced by Perkins and its subordinate factories in the UK according to its global unified quality standards. Perkins' global service network provides customers with reliable service guarantees.
The Perkins diesel generator set produced by Beidou adopts the British Perkins diesel engine to complete the set. Our company has decades of experience in the production of perkins diesel generator sets. Customer demand.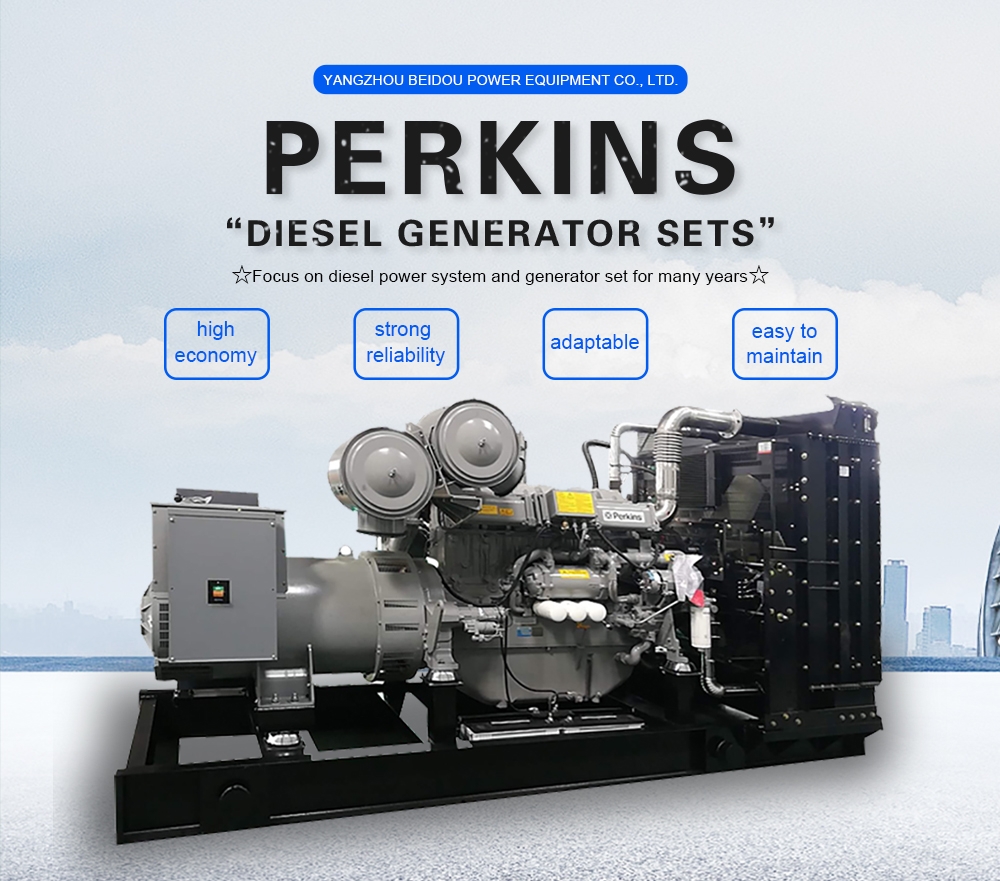 British Perkins (Perkins) Engine Co., Ltd. was founded in 1932, is a global engine manufacturer, is one of the leaders in the 4 to 2000KW power off-highway diesel and natural gas engine market. Perkins is good at tailoring engines for customers, fully meeting the specific needs of customers, so it is trusted by equipment manufacturers. With this advantage, the company currently supplies engines to more than 1,000 major equipment manufacturers around the world, and these engines are used in more than 5,000 different occasions, covering five major markets: agricultural machinery, construction/construction machinery, power generation equipment, industrial equipment and material handling equipment .
Perkins is a world-renowned engine manufacturer whose engines are used to assemble Rolls-Royce cars and have a worldwide reputation. The British Perkins Engine Company is a world famous engine manufacturing company.
Today, following the name of Perkins, Perkins has developed into a top supplier in the 4 KW-2000 KW (5-2600hp) diesel and gasoline engine markets. In the industrial, construction, agricultural, marine, and power generation equipment markets, major international original equipment manufacturers have chosen Perkins to power their equipment because they know that no matter how demanding their requirements are, Perkins can always provide a solution program.